Archive for Mai, 2011
In the last two months EPUBReaders daily user base has grown to 126,000 users which means an increase of 26,000 users.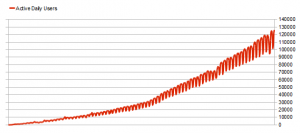 On a per day basis this means 430 new daily users per day. For me this sounds pretty good

.
You are currently browsing the EPUBReader Blog blog archives for Mai, 2011.